Kawasaki KX65 2000-2015 Torpedo Grafix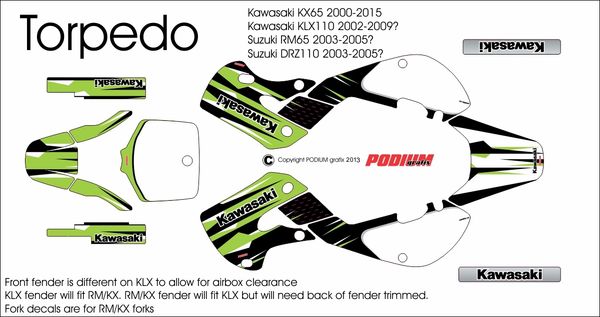 Kawasaki KX65 2000-2015 Torpedo Grafix
Our popular Torpedo design for the 2000-2015 Kawasaki KX65.
This also fits other models of Kawasaki & Suzukis. Please Confirm before ordering.
As far as I can tell it also fits:
2002-2009 Kawasaki KLX110*
2003-2005 Suzuki RM65
2003-2005 Suzuki DRZ110*
*Fork Decals Fit the KX/RM models only. Some years of the KLX/DRZ are exactly the same except the front fender
If someone knows will you please enlighten me gord@podiumgrafix.com .

Reviews